English finalist guaranteed after wins for Kennedy, Perry and Willstrop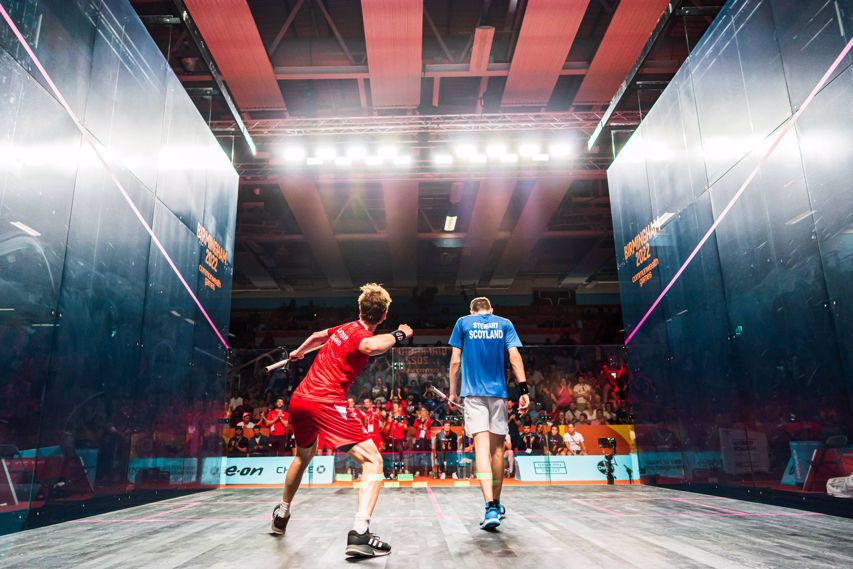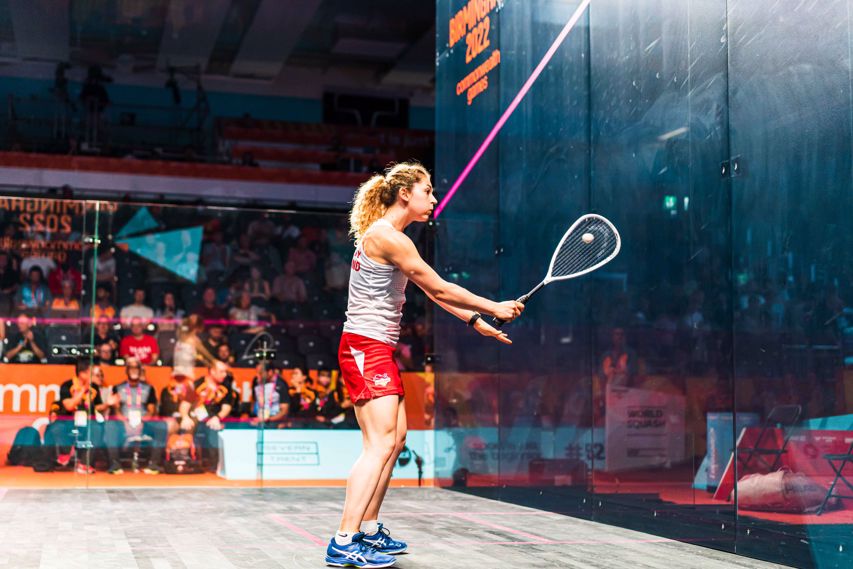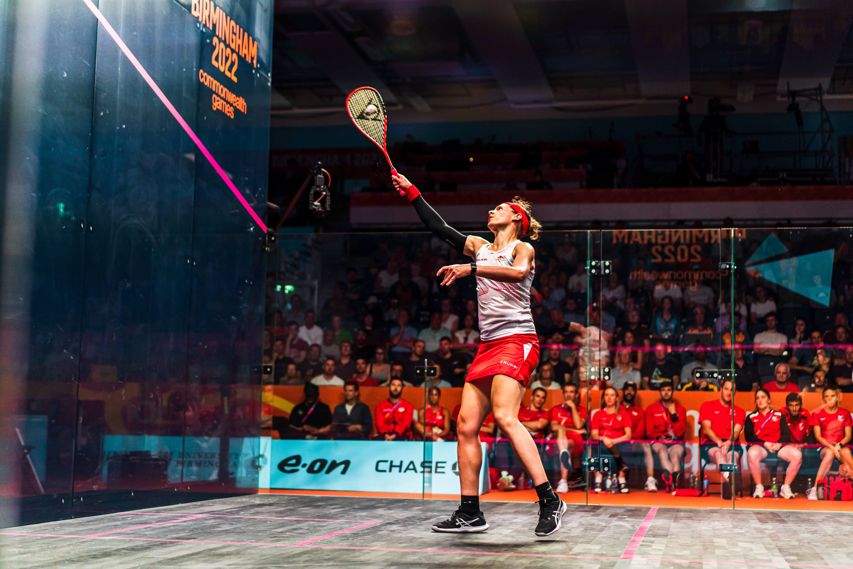 There will be at least one English player in the Birmingham 2022 Commonwealth Games finals after Georgina Kennedy and Sarah-Jane Perry recorded victories to set up an all-English women's semi-final, while James Willstrop came through a tense encounter with Scotland's Rory Stewart to be the sole English representative in the men's draw.
In the quickest match of the day, 3/4 seed Georgina Kennedy stormed into the semi-finals courtesy of a comprehensive 17-minute win over Malaysia's 9/16 seed Rachel Arnold.

Kennedy is already known for her relentless energy, but kicked that into overdrive yesterday. The 26-year-old gave the Malaysian no quarter as she rapidly covered every inch of the court, blowing her opponent away with an 11-4, 11-2, 11-1 win.
Afterwards, Kennedy said: "I don't know what came over me. I've been training a couple of years for this event and that's the best squash I've played this season. All day I've had a lot of energy and it all came together."
No.2 seed Perry, who will meet Kennedy in the semi-final at the University of Birmingham Hockey and Squash Centre, recorded a similarly emphatic win as she secured a 12th successive victory over Welsh 5/8 seed Emily Whitlock.
Perry made an ideal start to the match, taking the first six points as Whitlock struggled to deal with the 2018 silver-medallist's power and accuracy.
Although Whitlock did eventually begin to feel her way into the match, Perry - who acknowledged afterwards that playing every one of her matches on the glass court had helped - was able to consistently keep herself out of trouble, and she wrapped up the match in 29 minutes with her second 11-6 win in game two and a third in game three.
On her semi-final opponent, Perry said: "Gina's had a fantastic season, she's an incredible player, a great person and someone who's fantastic to have in the team."
The third player through to the semi-finals, 5/8 seed Willstrop, played out one of the matches of the day as he overcame 9/16 seed Stewart in a tight exchange.
The defending singles champion will have known how dangerous the World No.65 was after watching the Scot knock out teammate and 3/4 seed Patrick Rooney on Sunday, and Willstrop looked sharp as he took the first game 11-5.
Stewart, however, then counter attacked well and stretched Willstrop with a barrage of low then high shots in quick succession. The tactic worked well, and Stewart took a 2-1 lead with 11-9 and 11-7 wins.
Now, though, it was Willstrop's turn to strike back. The 38-year-old marshalled all his skill and experience, attacking the space behind the advancing Stewart and levelled with an 11-6 win, before holding his nerve to fight back from 3-7 down to take the decisive fifth 11-8.
Afterwards, Willstrop - who will play Welsh No.2 seed Joel Makin in the semi-final - paid tribute to England teammate Lucy Turmel for inspiring him to victory.
5/8 seed Turmel, 22, had earlier earned thunderous applause from teammates, fans and no doubt viewers at home for a monumental effort as she fell to the cruellest of defeats to top seed and defending champion Joelle King.
Turmel stunned King by taking the first game, only to fall 10-2 behind in the second. The determined Turmel, though, refused to write the game off, and instead hunted the World No.6.
Incredibly, Turmel saved all eight of the game balls to force a tie break. Both players then had game balls, before King eventually converted her 11th to draw level with an epic 18-16 win.
Two more incredibly tight games followed, with Turmel eventually falling after an 11-9 defeat in the third and a 14-12 in the fourth.
In the other match featuring an English player, 5/8 seed Adrian Waller put in a creditable performance but was unable to upset top seed and World No.2 Paul Coll, with the Kiwi recording a 12-10, 11-4, 11-7 victory in 47 minutes.
Birmingham 2022 Commonwealth Games Quarter-Final Women's Results:
[1] Joelle King (MZL) bt [5/8] Lucy Turmel (ENG) 3-1: 9-11, 18-16, 11-9, 14-12 (85m)
[3/4] Georgina Kennedy (ENG) bt [9/16] Rachel Arnold (MAS) 3-0: 11-4, 11-2, 11-1 (17m)
Birmingham 2022 Commonwealth Games Quarter-Final Men's Results:
[1] Paul Coll (NZL) bt [5/8] Adrian Waller (ENG) 3-0: 12-10, 11-4, 11-7 (47m)
[5/8] James Willstrop (ENG) bt [9/16] Rory Stewart (SCO) 3-2: 11-5, 9-11, 7-11, 11-6, 11-8 (72m)
Birmingham 2022 Commonwealth Games Semi-Final Women's Draw:
[2] Sarah-Jane Perry (ENG) v [3/4] Georgina Kennedy (ENG)
Birmingham 2022 Commonwealth Games Semi-Final Men's Draw:
[2] Joel Makin (WAL) v [5/8] James Willstrop (ENG)
The semi-finals will be streamed on BBC iPlayer and BBC Sport website.