Team England advance to women's and mixed doubles semi-finals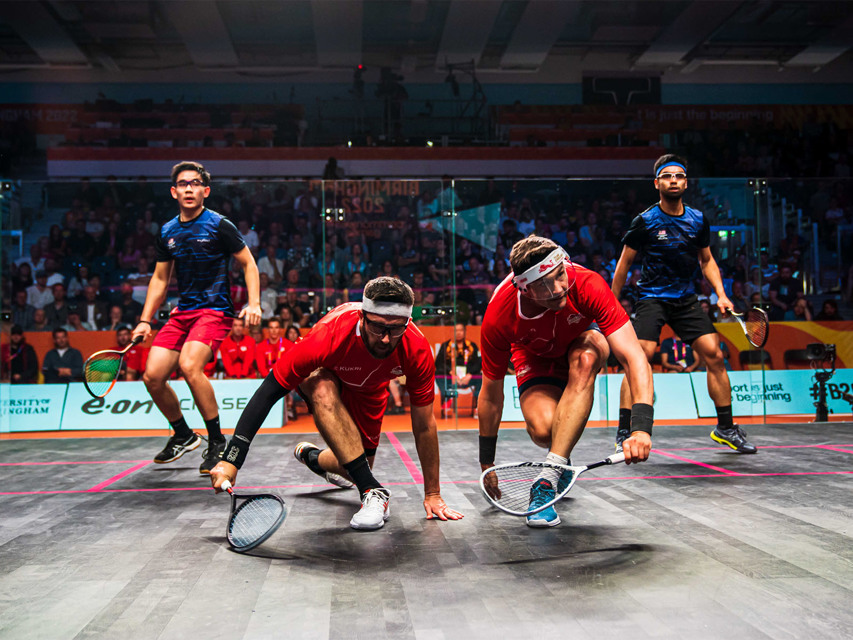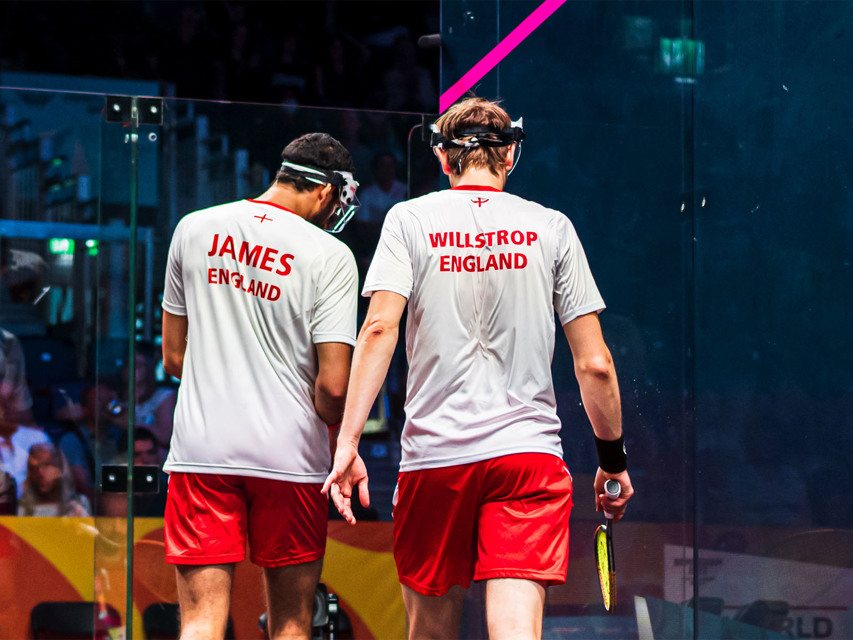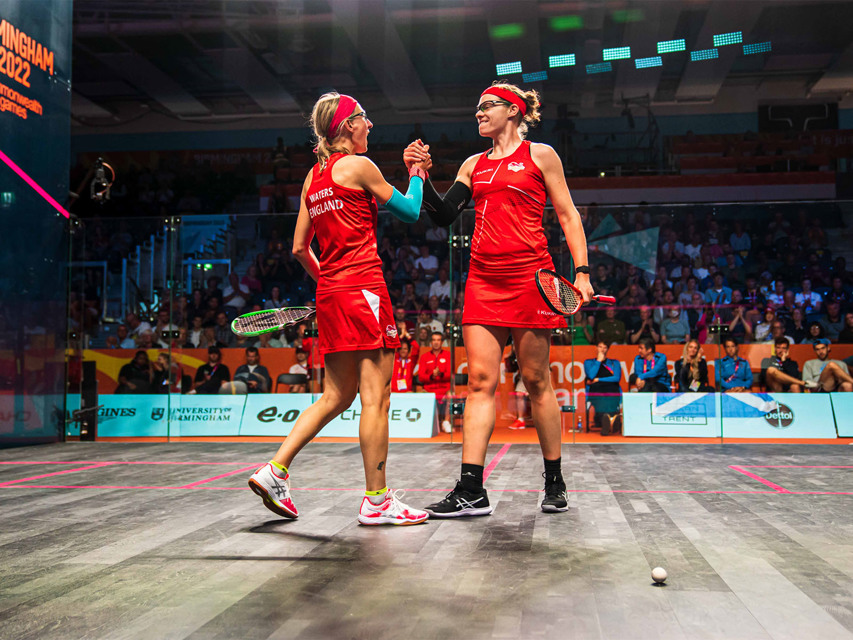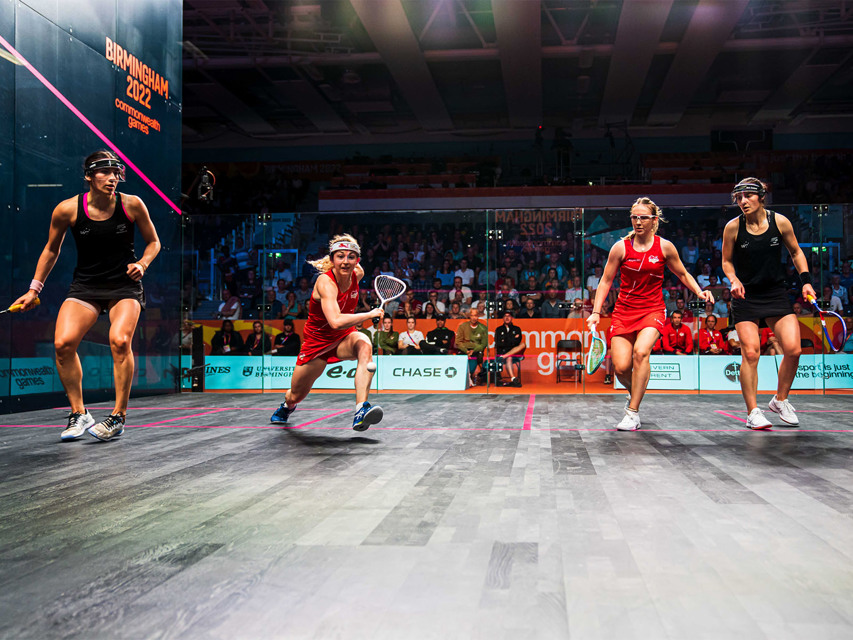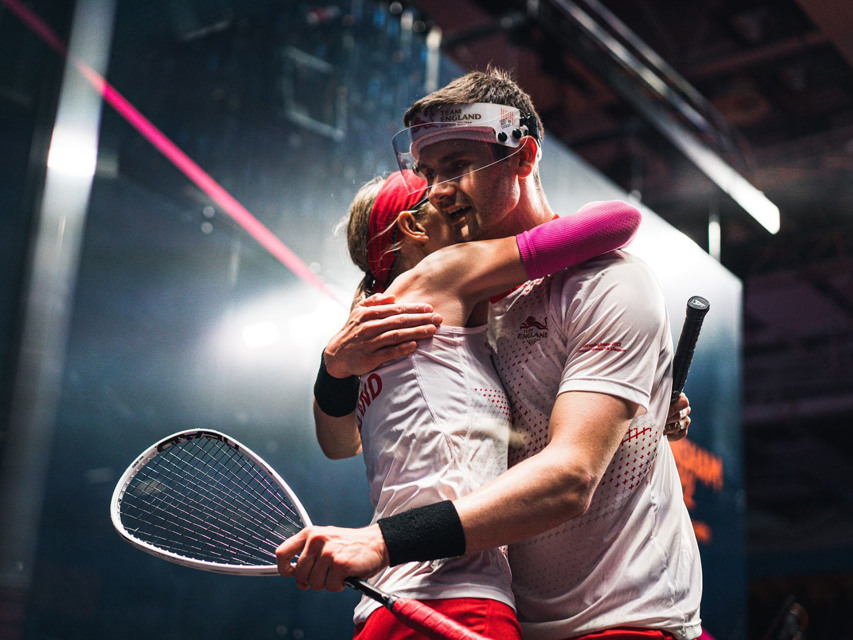 Two Team England doubles pairings reached the semi-finals of the women's and mixed doubles at the Birmingham 2022 Commonwealth Games after victories for Sarah-Jane Perry and Alison Waters, and Alison Waters and Adrian Waller. The two men's teams, meanwhile, also recorded wins against Malta and Malaysia to progress to the men's doubles quarter-finals.

In the mixed doubles, second seeds Alison Waters and Adrian Waller recovered from a difficult start to beat Wales' Tesni Evans and Joel Makin in a crowd-pleasing encounter.
The English pair looked in trouble after the 5/8 seeds took the first game 11-4, but managed to reset well in the subsequent games.
In the second game, play was dominated by Waters and Evans, with Waller and Makin often going entire rallies without touching the ball. This played well into the hands of Waters, who since retiring from the World Tour has forged a reputation for being a doubles specialist, and England were able to level with an 11-8 win.
While the third game began evenly, Waters and Waller soon began to dominate, looking increasingly assured as they moved into a semi-final clash against defending champions Donna Lobban and Cameron Pilley with an 11-5 win.
Afterwards, Waters said: "They played really well the whole match. The first game, we were under the cosh. I'm really proud that we came out with a different plan and [in the third game] we played as well as we could do out there."
Waters had already been on court earlier in the day when she and Perry overcame stubborn resistance from Scottish 5/8 seeds Georgia Adderley and Lisa Aitken.
The No.2 seeds began quickly and opened up a 6-2 margin, before the Scots reduced the lead to 7-6. In an entertaining end to the game, Waters and Perry were able to move through the gears and choke the Scottish momentum to take the first game 11-7.
The second game followed a similar pattern to the first, with Perry and Waters coasting at 9-3 up, before Adderley and Aitken put together a brilliant run of points to pull back to 9-7.
Once again, though, the No.2 seeds were able to see the game and match out, with Waters bringing things to an end 11-8 as she fired the ball to the front, beyond the desperate dive of Adderley.
After the match, Perry, who just two days ago overcame Joelle King to win singles bronze, said: "It's obviously a quick turnaround from singles to doubles, but I feel settled and pleased, I felt good today."
Perry and Waters will play Rachel Arnold and Aifa Azman in the semi-finals on Sunday after the Malaysian 5/8 seeds surprised 3/4 seeds Rachael Grinham and Donna Lobban of Australia.
In the men's draw, Waller again fought back from a game down as he and Daryl Selby overcame Malaysia's Mohd Syafiq Kamal and Ong Sai Hung 2-1.
The No.2 seeds went down 11-9 in a fast paced opener, before hitting their stride with 11-4 and 11-7 wins to set up a quarter-final match with 9/16 seeds David Baillargeon and Nick Sachvie of Canada.
Selby, who did not enter the singles competition, said: "It was a bit of a shootout and we knew they were going to be good. We've been patient waiting for everyone else to play, but it's different once on there, there's a lot of pressure and nerves, but the important thing is that we're through!"
There was an easier first match of the Games for top seed Declan James, playing alongside James Willstrop, with the pair breezing into the second round with a comfortable 2-0 victory over Malta's Niall Engerer and Kijan Sultana.
"It's been a nervous week watching from the bench and watching the team. Inspirational stuff from them and it's great to be here!" James said.
In England's sole defeat of the day, 5/8 seeds Georgina Kennedy and Lucy Turmel went down in a spirited 2-0 against defending champions Joelle King and Amanda Landers-Murphy.
Birmingham 2022 Mixed Doubles Quarter-Final Results:
[2] Alison Waters & Adrian Waller (ENG) bt [5/8] Tesni Evans & Joel Makin (WAL) 2-0: 4-11, 11-8, 11-5 (46m)
Birmingham 2022 Women's Doubles Quarter-Final Results:
[2] Sarah-Jane Perry & Alison Waters (ENG) bt [5/8] Georgia Adderley & Lisa Aitken (SCO) 2-0: 11-7, 11-8 (23m)
[3/4] Joelle King & Amanda Landers-Murphy (NZL) bt [5/8] Georgina Kennedy & Lucy Turmel (ENG) 11-8, 11-6 (21m)
Birmingham 2022 Men's Doubles Round Two Results:
[1] Declan James & James Willstrop (ENG) bt [9/16] Niall Engerer & Kijan Sultana (MLT) 2-0: 11-2, 11-1 (13m)
[3/4] Daryl Selby & Adrian Waller (ENG) bt [9/16] Mohd Syafiq Kamal & Ong Sai Hung (MAS) 2-1: 9-11, 11-4, 11-7 (51m)
Birmingham 2022 Mixed Doubles Semi-Final Draw:
[2] Alison Waters & Adrian Waller (ENG) v [5/8] Donna Lobban & Cameron Pilley (AUS)
Birmingham 2022 Women's Doubles Semi-Final Draw:
[2] Sarah-Jane Perry & Alison Waters (ENG) v [5/8] Rachel Arnold & Aifa Azman (MAS)
Birmingham 2022 Men's Doubles Quarter-Final Draw:
[1] Declan James & James Willstrop (ENG) v [5/8] Rhys Dowling & Cameron Pilley (AUS)
[3/4] Daryl Selby & Adrian Waller (ENG) v [9/16] David Baillargeon & Nick Sachvie (CAN)