Team England's Kennedy captures historic Commonwealth gold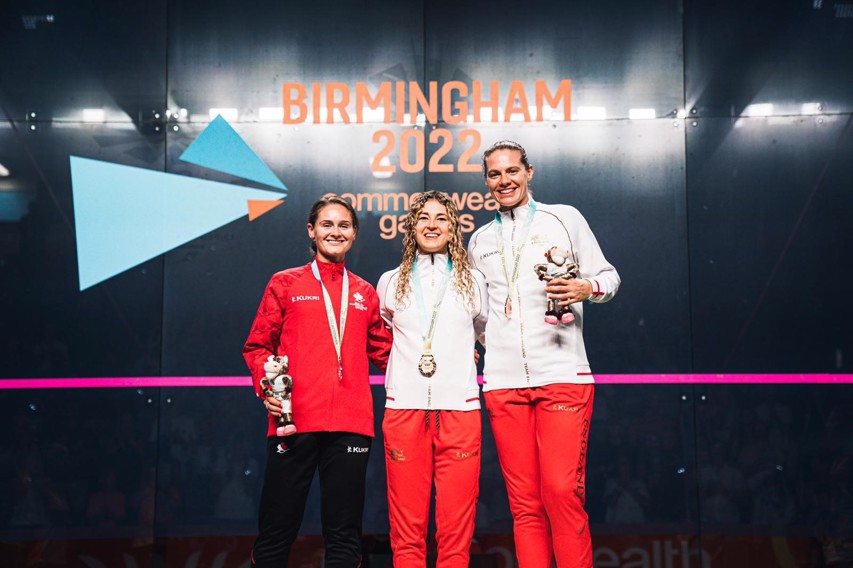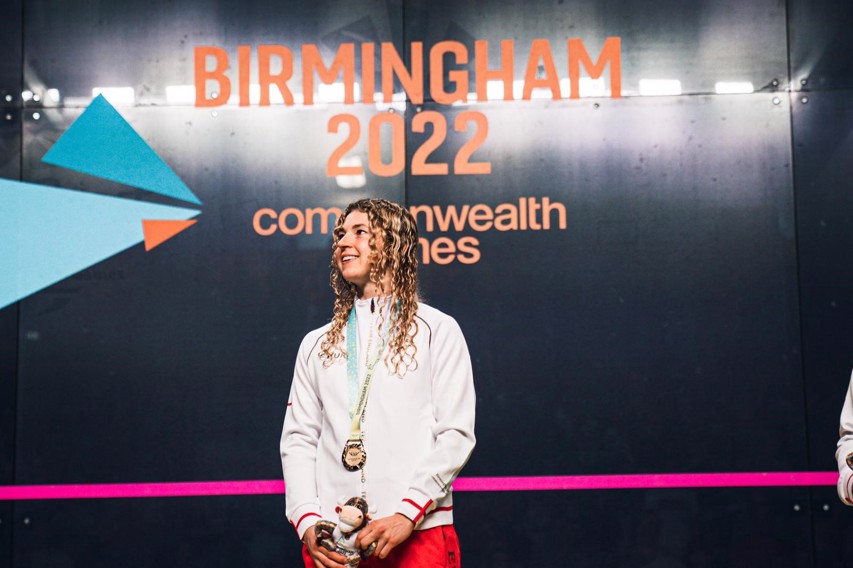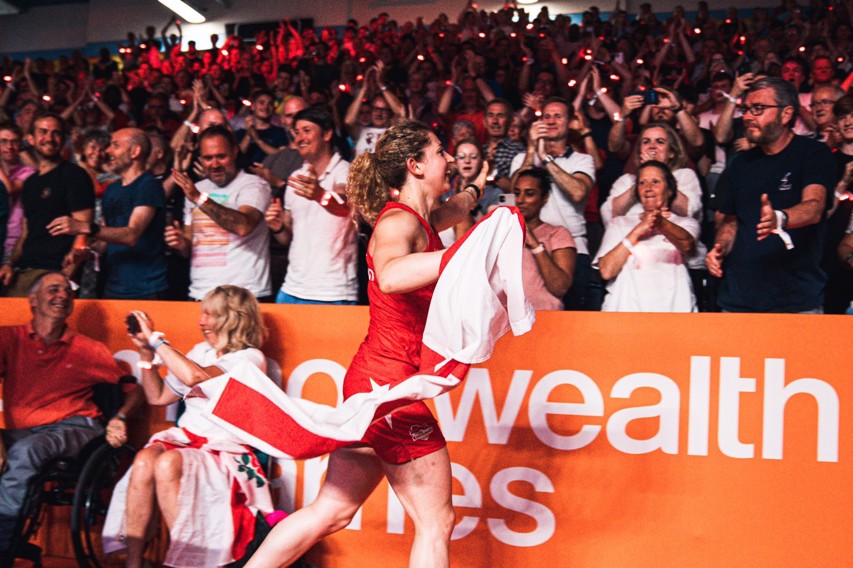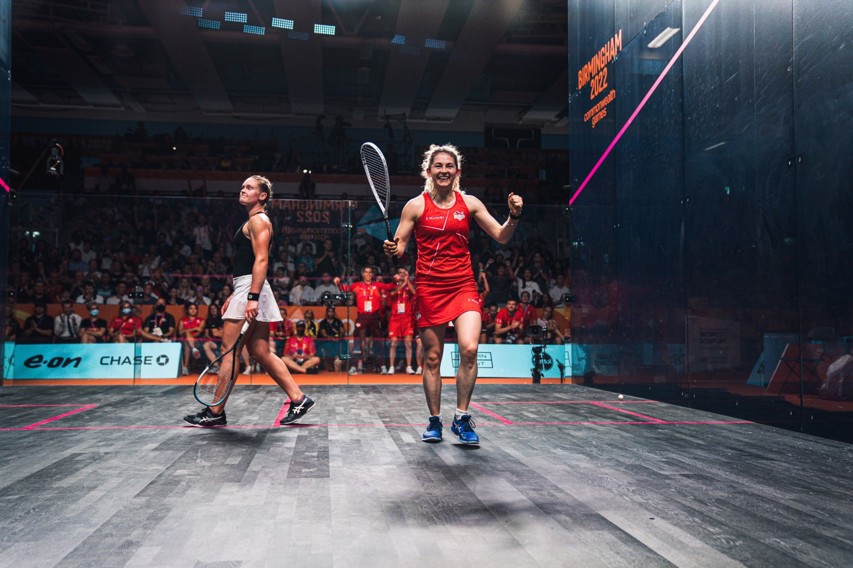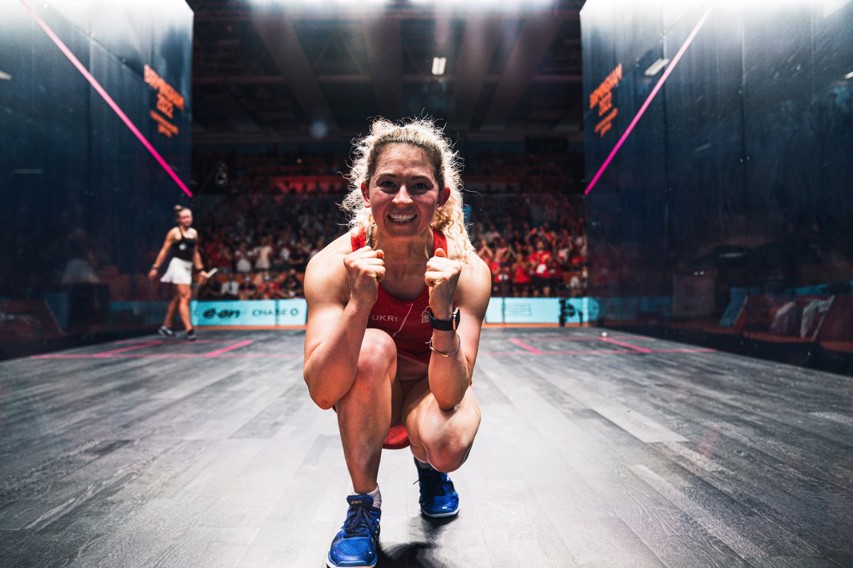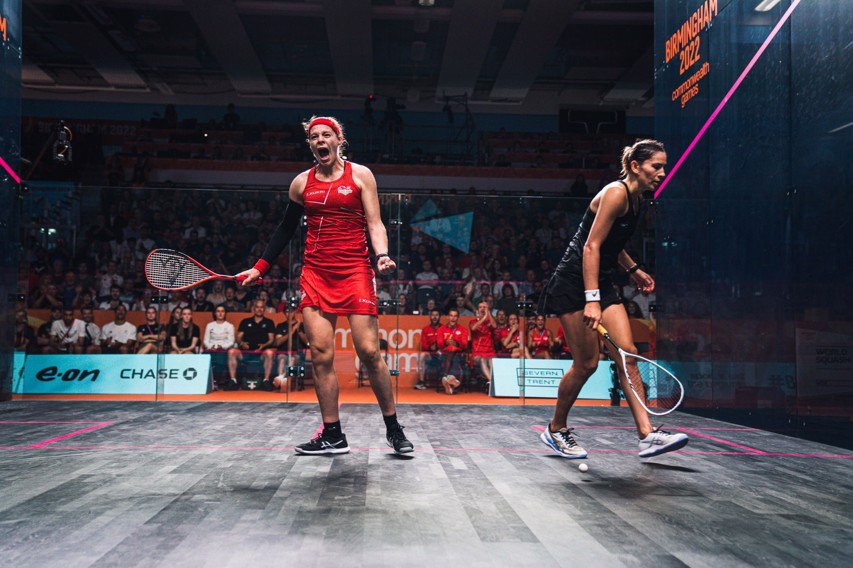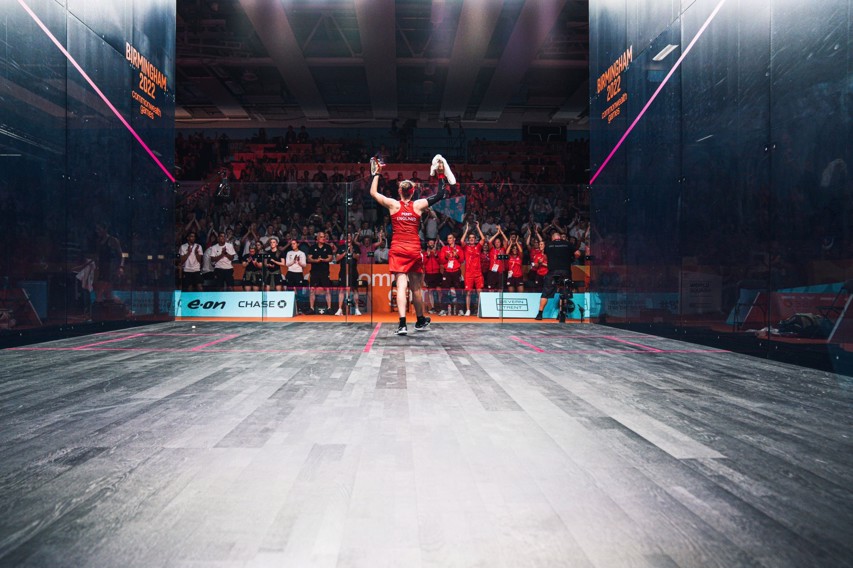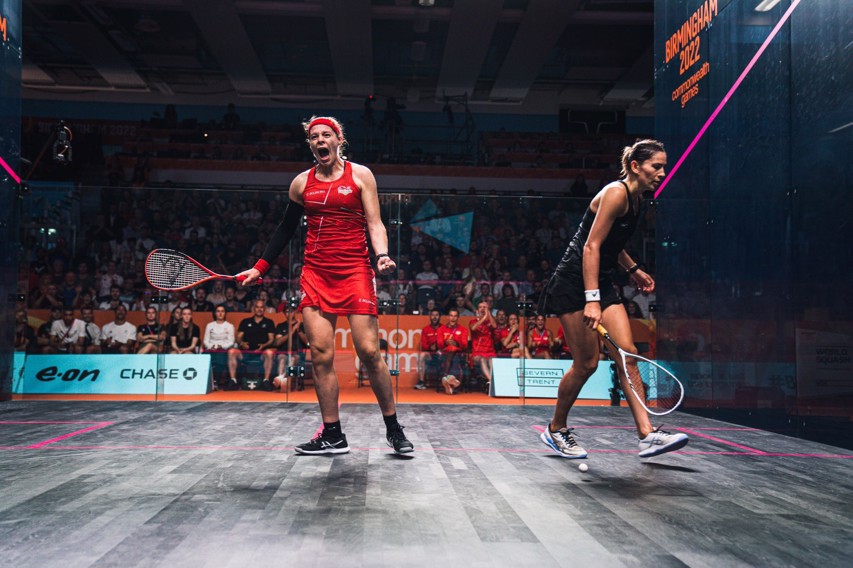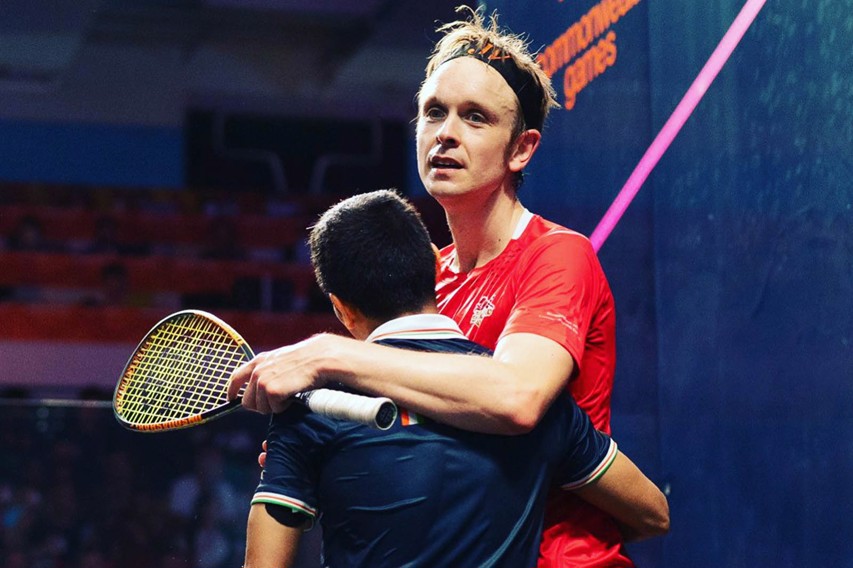 Team England's 3/4 seed Georgina Kennedy became the first Englishwoman to win a Commonwealth Games singles gold medal after overcoming Canada's 5/8 seed Hollie Naughton 3-1 today in Birmingham.
The first game started evenly and was finely poised at 6-6, with Naughton's power contrasting with Kennedy's pace, before the 25-year-old pulled away to take the first game 11-7.
Kennedy drew confidence from this win and flew into a 6-1 lead in the second game. The Englishwoman continued to dominate, with her incredible pace unnerving the Barnsley-born Canadian and she took a decisive-looking 2-0 lead with an 11-5 win.
Naughton found a response in the third and looked well set to pull a game back at 10-4 up. The incredible Kennedy, though, saved all six game balls to force a tie break.
Kennedy had gold medal ball at 11-10, before a determined Naughton fought back with a 14-12 win.

Somehow, Kennedy found another gear in the fourth game and went on the attack as she raced away to a 6-1 lead.
This time, Naughton was unable to recover, and Kennedy took the gold with a 11-5 win to cap a spectacular season that saw her rise from World No.185 in May 2021 to World No.8 in July of this year.
Kennedy said:
"I'm a bit lost for words really. Right now I wish I could put into words what this means to me but I honestly can't - it's a dream and this dream has become a reality now.
"I've been thinking about how it would feel for so long and I've been building up for this for two years now, and now it's happened, I'm just a bit speechless!
"The England team over the years is renowned for their strength in squash and we've been dominating the squash game for so many years. To be the first Englishwoman amongst the calibre of players and do that is something - I could end my career today and be beyond happy winning that gold medal."
Commenting on her opponent, Kennedy said: "I'm used to playing fighters and people who come back and Hollie's exactly like me, just so focused on winning every single point and you can't let up at all. It's just about who can win those big points slightly better and I managed to do it."
Earlier, Gina's compatriot Sarah-Jane Perry enjoyed a measure of revenge against New Zealand's Joelle King to win the bronze medal in her hometown in a thrilling comeback.
Four years ago, King broke Perry's heart in the final of the Gold Coast Games when the Kiwi held off a spirited fightback from the Englishwoman to win 3-2.
Today, though, Perry was able to complete the job.
Perry looked in dire trouble after top seed King had taken the first two games and led 8-4 in the third, with the Kiwi looking more relaxed than in her nervous semi-final defeat.
Birmingham native Perry, though, rallied. Roared on by vociferous home support, the 32-year-old took the game 12-10 to force a foothold in the match, before levelling with an 11-6 win in the fourth.
In the tensest of fifth games, both players were pushed to their absolute limits as they traded the lead.
King was the first to reach bronze medal ball first, but was unable to convert at 10-9 and 11-10, before Perry saw her own match ball saved at 12-11.
To the delight of the crowd, though, Perry was able to dig in and complete a remarkable comeback as she brought proceedings to a close with a 14-12 win.
"I'd like to thank Gina," said Perry afterwards. " After we played, she said I was one of toughest players, so I thought 'Why not be?'
"I've had some comebacks in my time but that's right up there. Thanks to everyone for believing and everyone who puts that confidence in me."
In the other bronze medal match, Team England's James Willstrop, the defending champion, bowed out with a defeat to India's Saurav Ghosal.
Willstrop went into the match with an 11-1 record over Ghosal, but today struggled against the tactical acumen of the Indian, who recorded an 11-6, 11-1, 11-4 victory.
Afterwards Willstrop said; "It was frustrating and difficult, and it's just a bit disappointing when you have an amazing crowd like that. But I'm really pleased for Saurav, huge congrats to him. We're very close as we train together so I'm just really happy for him.
"It's just wonderful what Sarah-Jane and Gina have achieved, I'm delighted for them both!"
Commenting on his players' performances, National Coach David Campion said:
"I'm thrilled for Gina on her gold medal. It's been a whirlwind 18 months and we are all very proud of her. Incredible to think that she has only been competing against the top girls for just over a year now, and to come here and get the win at her first attempt is phenomenal.
"Equally that fight back from Sarah-Jane at 2-0 and 8-4 down was simply outstanding and a real thriller. She is such a figure and I'm so pleased for her that she came away with a medal.
"James wasn't able to get any sort of foothold in his bronze medal match. However you can't ever take away the gold medal he won in 2018. He has achieved so much in the sport. He can take comfort from how he inspires so many with how he plays and conducts himself.
"We have an amazing team of players here and we will now set our sights on further medal success in the doubles."
Willstrop, Perry and Kennedy will return to join their England team-mates in the men's women's and mixed doubles.
Visit England Squash's dedicated site for news, results and reaction and follow England Squash on Twitter, Instagram and Facebook.
Birmingham 2022 Commonwealth Games Women's Gold Medal Match
[3/4] Georgina Kennedy (ENG) beat [5/8] Hollie Naughton (CAN) 3-1: 11-7, 11-5, 12-14, 11-5 (56m)
Birmingham 2022 Commonwealth Games Men's Bronze Medal Match
[3/4] Saurav Ghosal (IND) beat [5/8] James Willstrop (ENG) 3-0:11-6, 11-1, 11-4 (42m)
Birmingham 2022 Commonwealth Games Women's Bronze Medal Match
[2] Sarah-Jane Perry (ENG) beat [1] Joelle King (NZL) 3-2: 6-11, 9-11, 11-8, 11-6, 14-12 (76m)