Eat Like a Pro: Lunch
England Squash Performance Nutritionist Ollie Turner shares the optimum lunch to fuel your evening game.
Tandoori Chicken Wrap
Preparation Time = 5 minutes; Cooking Time = 15 minutes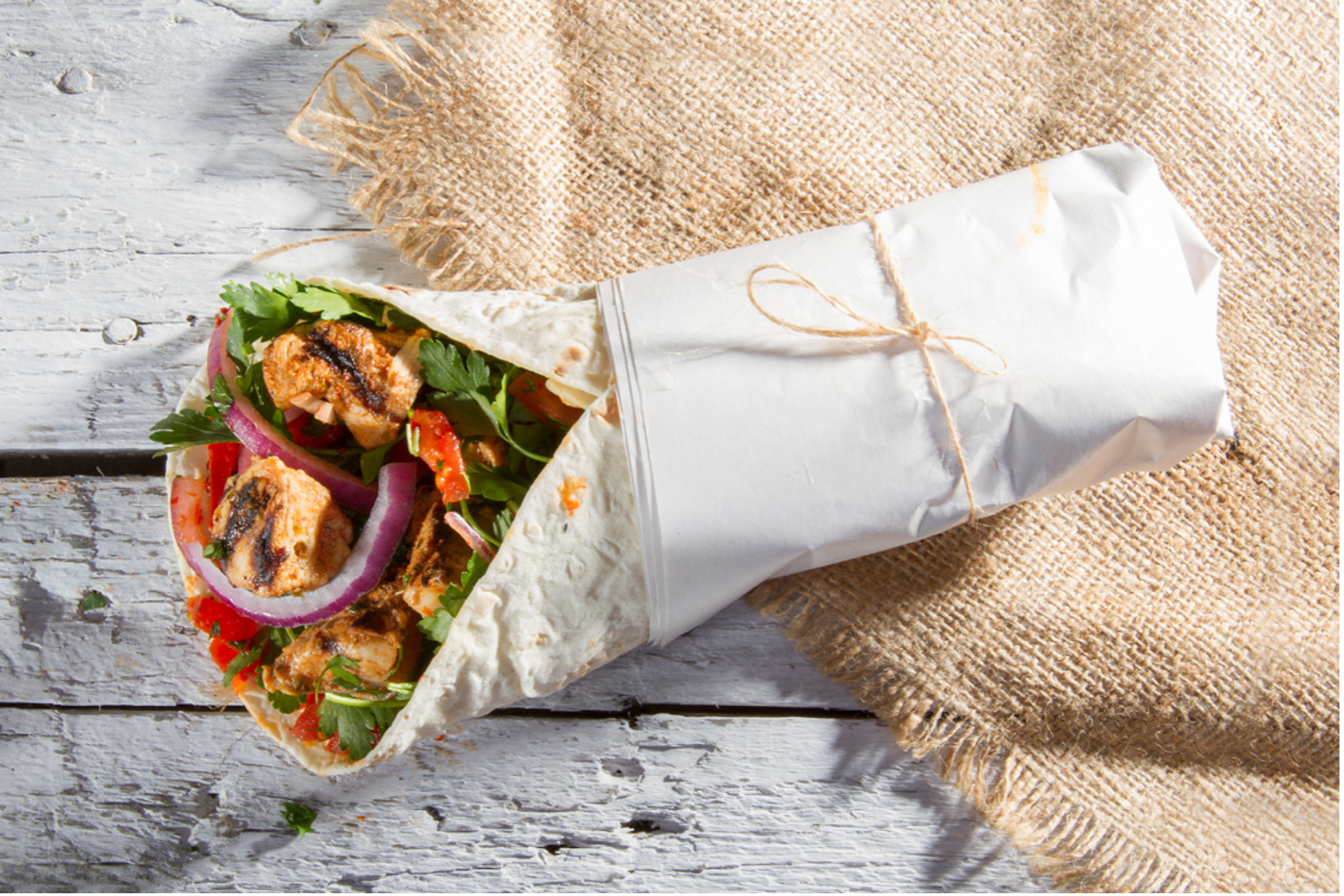 Nutritional Values

per Serving
Energy (Kj) = 2374 kj
Energy (Kcal) = 565 Kcal
Fat = 21 g
– of which saturates = 9.3 g
Carbohydrates = 40 g
– Of which sugars = 12 g
Fibre = 6.8 g
Protein = 49 g
Salt = 3.2 g
A tandoori chicken wrap makes the ultimate lunchtime recipe as it can be prepared the night before and consumed for lunch the following day. Carbohydrates are an important component of any pre-squash meal as they are the body's high intensity fuel. Adding in some rice or black beans to the wrap will increase the carbohydrate content further and this may be beneficial if you know you're undergoing a prolonged high intensity session (greater than 60 minutes).

The variety of ingredients in this wrap provide a plethora of nutrients. The carrot, tomatoes and lemon are high in antioxidants which reduce the amount of stress the body is put under while the chicken is high in vitamin B3 which helps the body convert food into energy. Vital for the high intensity movements around the court!
This meal is also high in nitrates which are found in carrot and spinach. Nitrates widen blood vessels (such as arteries) allowing for more oxygen to be supplied to to the working muscles. This has been shown to reduce fatigue throughout those lung-busting rallies on court. This process of widening blood vessels takes roughly 3-4 hours to occur so consuming a source of nitrate at lunch sets you up perfectly for a match in the evening. Other sources of nitrates include beetroot, rhubarb and lettuce. Try out this easy lunch recipe to optimise your performance on court!
Ingredients
250 g of chicken breast
2 wholemeal wraps
Juice of 1 lemon
200g of cherry tomatoes (sliced)
60 g of natural yogurt
60 g of cheddar cheese (grated)
1 carrot (grated)
60 g of spinach
15 g of tandoori masala mix
Method
Prepping the chicken
Slice the chicken breasts into bite-size pieces.
Add the tandoori mix and the juice of one lemon.
Mix together thoroughly and season with salt and pepper.
Either grill, oven bake or fry the chicken*. To grill, preheat the grill to medium and cook for around 10-12 minutes, turning halfway through. To oven bake, cook in a pre-heated oven at 200C/Gas 6 for 10-15 minutes or fry in a pan.
*As cooking appliances and the size of the chicken pieces vary, ensure the chicken is cooked through before serving.
Assembling the wrap
Heat the tortilla wraps according to packet instructions.
Divide the chicken between two warmed tortilla wraps.
Top with yogurt, spinach, grated cheese, grated carrot and sliced tomatoes.
Roll-up and enjoy!
Eat straight away or save for later (the wraps should keep for 2-3 days).