Eat Like a Pro: Dinner
England Squash Performance Nutritionist Ollie Turner shares a delicious dinner recipe to aid your post-exercise recovery.
Teriyaki salmon (or tofu) skewers with kale and tenderstem rice
Preparation time = 20 minutes; Cooking time = 20 minutes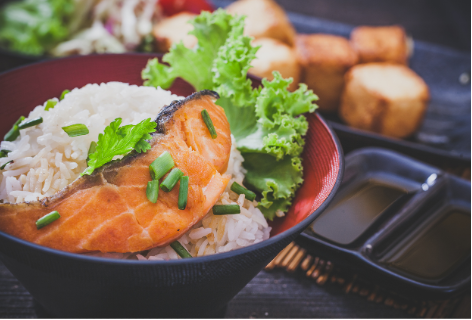 Nutritional information
Values per serving
Salmon (or tofu*)
Energy (Kj) = 2562 (2007) kj
Energy (Kcal) = 612 (478) Kcal
Fat = 26 (15) g
– of which saturates = 4.3 (2.1*) g
Carbohydrates = 54 (56*) g
– Of which sugars = 18 (18*) g
Fibre = 9.4 (9.5*) g
Protein = 35 (23*) g
Salt = 2.7 (2.6*) g
*Tofu
Salmon or tofu provides an excellent source of protein to repair and rebuild the muscle.
This aids recovery and also adapts your muscle to training bouts. The wholegrain rice contains a source of carbohydrates to refuel post-session.
The broccoli, red pepper and lime provide a source of vitamin C - an antioxidant which reduces the amount of the stress the body is put under including sensations of soreness and fatigue post-exercise.
Ingredients
Serves two
To make the teriyaki sauce
2 tbsp of soy sauce
1 tbsp of olive oil
1 tbsp of honey or maple syrup [VE]
1 tbsp of red wine vinegar
1 red chilli (sliced)
½ juice of a lime
4cm of ginger (peeled and grated)
To make the skewers (skin removed)
2 salmon fillets or 250g of tofu [VE]
1 red pepper
4 skewers
To make the kale and tenderstem rice
100g wholegrain rice (raw weight)
2 large handfuls of kale
200g of tenderstem broccoli
2 spring onions (thinly sliced lengthwise)
½ juice of a lime
Method
To make the teriyaki skewers
Preheat oven to 200C/Gas 6.
Make the teriyaki sauce by mixing all its ingredients in a bowl. Set aside.
Remove the skin from the salmon and chop each fillet into eight equal pieces. If you're using tofu, chop into 16 equal squares.
Place the pieces into the teriyaki sauce bowl so the salmon pieces (or tofu) soak up some of the sauce and flavour.
Cut the pepper into each face and chop into equal squares. Aim for 16 squares to give you the same number of pieces as the salmon (or tofu).
Place four salmon (or tofu) and pepper squares on each skewer.
Add the skewers to a baking tray and pour over half the remaining teriyaki sauce on top.

Cook the skewers in the oven for 20 minutes.
To make the rice
Boil 1500ml of water in a pan and add the rice to cook which will take 20 minutes.

For the last eight minutes, add in the tenderstem broccoli. Once cooked, drain any excess water with a sieve.

While the rice is cooking, place the kale on a baking tray with a splash of oil and cook for 3-6 minutes in the oven until it goes crispy.

Combine the kale and spring onion with the rice and tenderstem in a large mixing bowl.

Squeeze ½ juice of a lime onto the rice mix as well as the remaining teriyaki sauce. Mix it up.

To plate up, serve the kale and tenderstem rice on a plate, before placing the teriyaki salmon (or tofu) skewers on top.